Overcoming Isolation & Finding Support as an Adoptive/Step Mom
Feeling isolated & unsupported? "It's not just you!"
If you are an adoptive or step-mom, you may be feeling isolated and unsupported in the challenges you are facing. You may feel like there is no one to turn to that understands what you are going through. This can lead to feelings of loneliness and it can make matters even worse. The good news is that there are ways to get help so that you don't have to go through this difficult time alone. Let's take a look at some things that can help adoptive and step-moms find the support they need.
Social media can be a great source for finding support when dealing with difficult situations. However, it can also be a bit of a double-edged sword because it often provides contradictory advice or even bad advice from people who don't really understand the situation. Remember that everyone has different experiences and opinions, so take any advice with a grain of salt. Be mindful of the source – if someone is giving advice that doesn't seem right or doesn't align with your common sense or values, it's best to avoid taking their words seriously whether online or offline.
Support In Unexpected Places
It might not be immediately obvious but connecting with other moms who have similar experiences as yours can make a huge difference in helping you overcome feelings of isolation or insecurity. Consider seeking out professional parenting coaches/mentors or joining support groups both online and offline that specialize in issues related to adoption, second families, blended families etc. You could even look into local meetups where moms come together over coffee or tea to chat about their experiences; having face-to-face conversations can provide more insight into the issue at hand than just talking online ever could.
Be Prayerfully Discerning
When looking for support outside of social media platforms or even in person conversations with supportive friends/family members/professionals, prayerfully discern what kind of advice works best for you and your family situation. Every family is unique - what works well for one family might not work well for another - so always go back to prayerful discernment when looking for answers on how best to navigate certain situations or conflicts within your family dynamics. Pray not only before making decisions but also during the difficult times – God will never leave us alone in our times of need!
Don't let feelings of isolation stop you from finding supportive people who understand the struggles that come along with raising adopted teens or being part of a blended family. Take the time to search for support outside the box, be mindful when reading social media comments (take the good and leave the bad), and most importantly pray through all decisions so that God's will is done in your home. With prayerful discernment comes peace - don't give up! He will carry us through even our darkest days!
It's important not to give up when looking for support as an adoptive or step parent; without it, it can be hard to not only deal with everyday issues but also keep perspective on any major life decisions that need to be made along the journey. Take time out for yourself—even if it's just 30 minutes each day—to reflect on all that you have accomplished as an adoptive or step parent and remind yourself that even though you may feel isolated at times, there are others who understand exactly what you're going through—you just have to seek them out!
Adoptive and step moms don't have to feel alone when dealing with challenges in their family dynamics; there are other moms who understand just how difficult it can be. As a coach I offer moms an option to fill the gap in their support networks to come alongside them and help them create a personal plan with the steps that are right for their situations, their values and and their goals. My 1-1 private coaching sessions can help bring much-needed clarity so that my coaching clients can develop a clear roadmap to their goals that they can feel confident with. But to even know what the goals should be, there needs to be a clear idea of what it would be to be successful in their roles as second moms. My new workshop on Re-defining Success for Second Moms is all about getting clear on what success is to you.
Register for the free January workshop - Re-defining Success for Second Moms - online Jan. 9, 2023 - at dawnbaggett.com/events
Keep Learning - Keep Growing - Keep Loving!
"When all of you is still not enough"
Being an adoptive or step mom can feel like you've embarked upon a daunting task to try to fill the void that your child already has. I know those types of feelings. It can feel like a tremendous responsibility. But as adoptive or step moms we must remember that we cannot make up for any losses in our children's lives – but instead can focus on providing stability for all of our children. Even as they push against that very stability they need.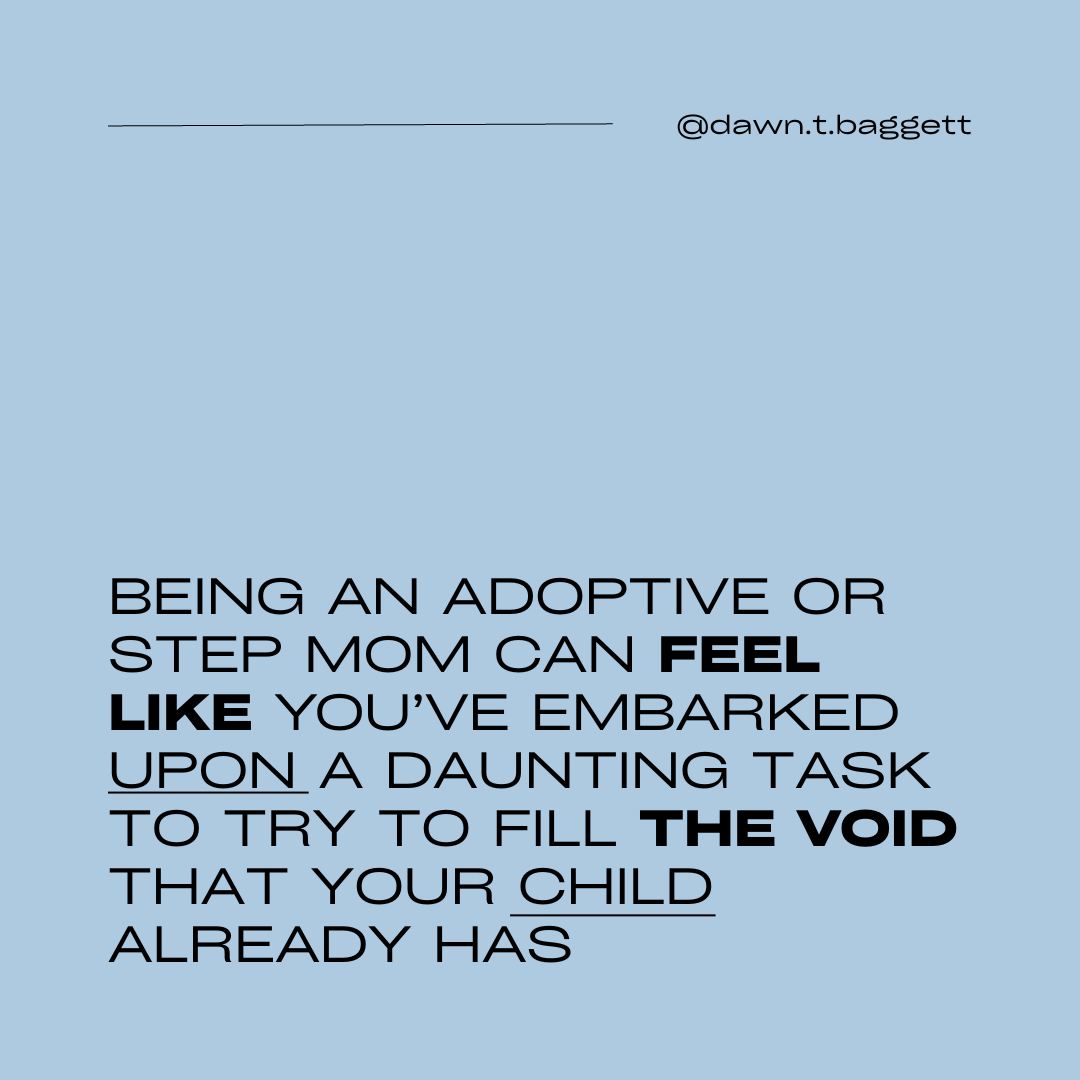 The Feeling of Insufficiency
It is very common for adoptive or step moms to feel behind and that they are not enough. This feeling of insufficiency may stem from the idea that they do not have the same connection as the biological parent, leading them to feel as if they are lacking something. However, this feeling of insufficiency is normal and it does not have to define the relationship with your child.
Read more...
anxiety, Biblical Personal Development, Christian faith, faith, gratitude, health, mental health, mindset, overcoming, podcast, sleep, stress, thanksgiving
In today's episode I want to talk about thankfulness & gratitude.
It can be really hard to feel grateful when we're going through a tough time, but I believe that it's just as important as ever to find things to appreciate in our lives, and to express our thankfulness to God and others. In this episode, I'm going to share with you three (3) reasons why being grateful in tough times is so important. So grab a cup of coffee or tea and join me as we explore the importance of gratitude.
Read more...