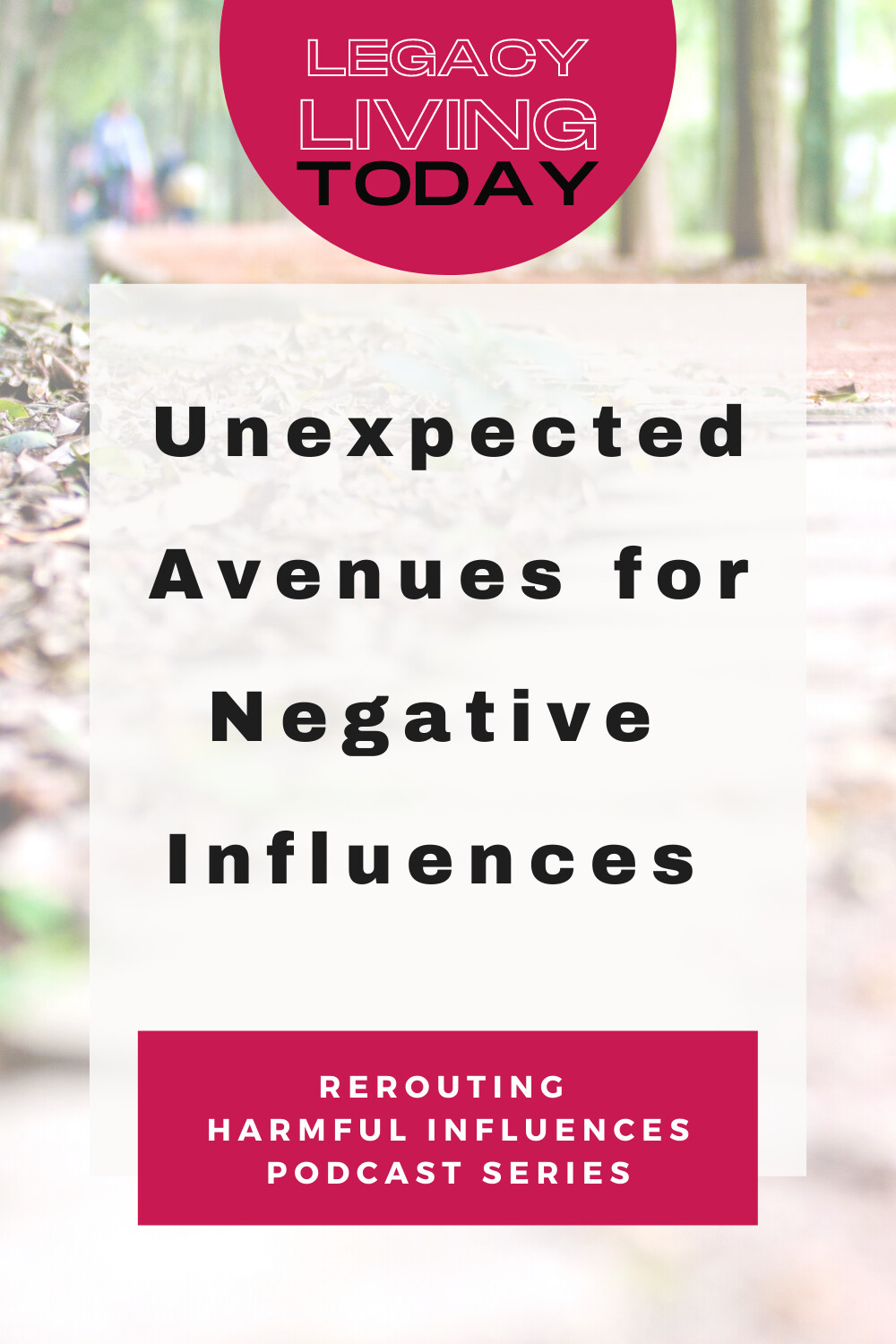 UNEXPECTED Avenues to Negative Influences
Welcome to the podcast series,
Rerouting Harmful Influences,
on
Legacy Living TODAY with Dawn Baggett
.
In this episode our focus is
Unexpected Avenues to Negative Influences
in our lives.
Some avenues are pretty obvious if we stop to think about them, right. But what about those that catch us by surprise? The unexpected avenues by which we become exposed to negative influences leading us off of our path of purpose? Have you recognized any surprising avenues in your life?
When we are on the right path, chugging along, and doing all the things . . . we may not expect that path to have negative influences along the way. As long as we are sticking to the path — but wait! Letting our guard down makes us more vulnerable to negative influences. Even in doing the "right" or "good" things.
I think about the Biblical story of the sisters Martha and Mary, good friends of Jesus. Martha was all about being a good hostess to our Lord. Doing all the things. Can you relate? I certainly can. Focused on the tasks rather than the person. Doing things "for" for person rather than being "with" the person.
I've also felt that overlooked feeling when others seem to be more focused on the doing rather than our relationship. Have you?
Not a good feeling. And yet it appears they've done nothing "wrong", but all the right things…
And at times I've chosen to spend time with Jesus, or with a child or other person and put off the to-dos on my agenda.
Do you ever get caught up in the doing and then find that all these things are taking AWAY from the person you began doing them FOR?
Let's recognize the need to put our relationships before our roles.
Let's take note of the fact that doing good things can take a turn for the worse if we let them take over or prompt ill will or other harmful attitudes and behaviors.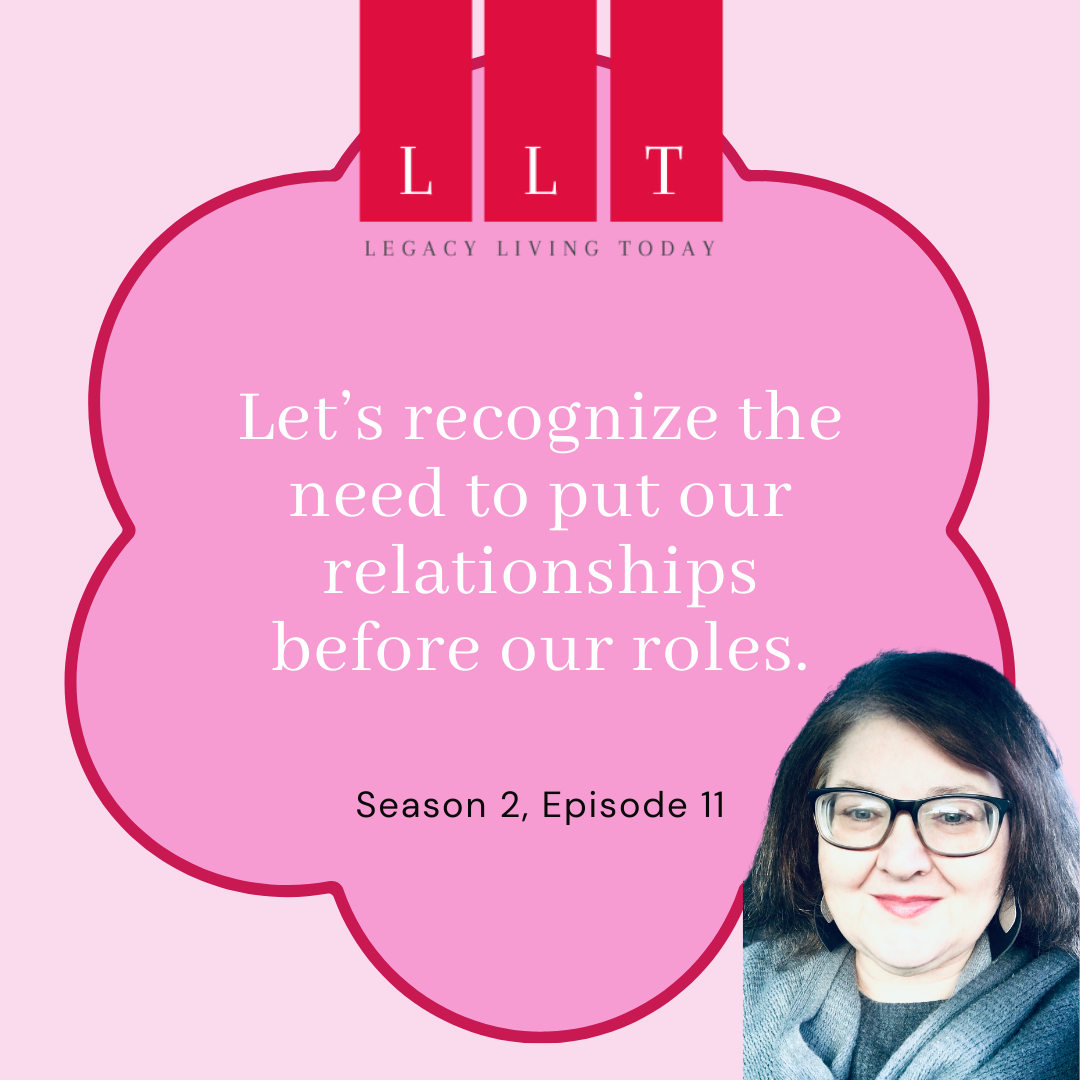 Mary felt she had been left to do all the work herself, that her sister should have been helping her. When we choose to serve, let's own that choice, regardless of the choice of others. If we let ourselves become bitter or resentful, then it taints the good service. We are no longer doing it from pure motives. When we choose to sit and listen at Jesus feet as Mary did, let's own our choice. Not be guilted into thinking we should be doing something else.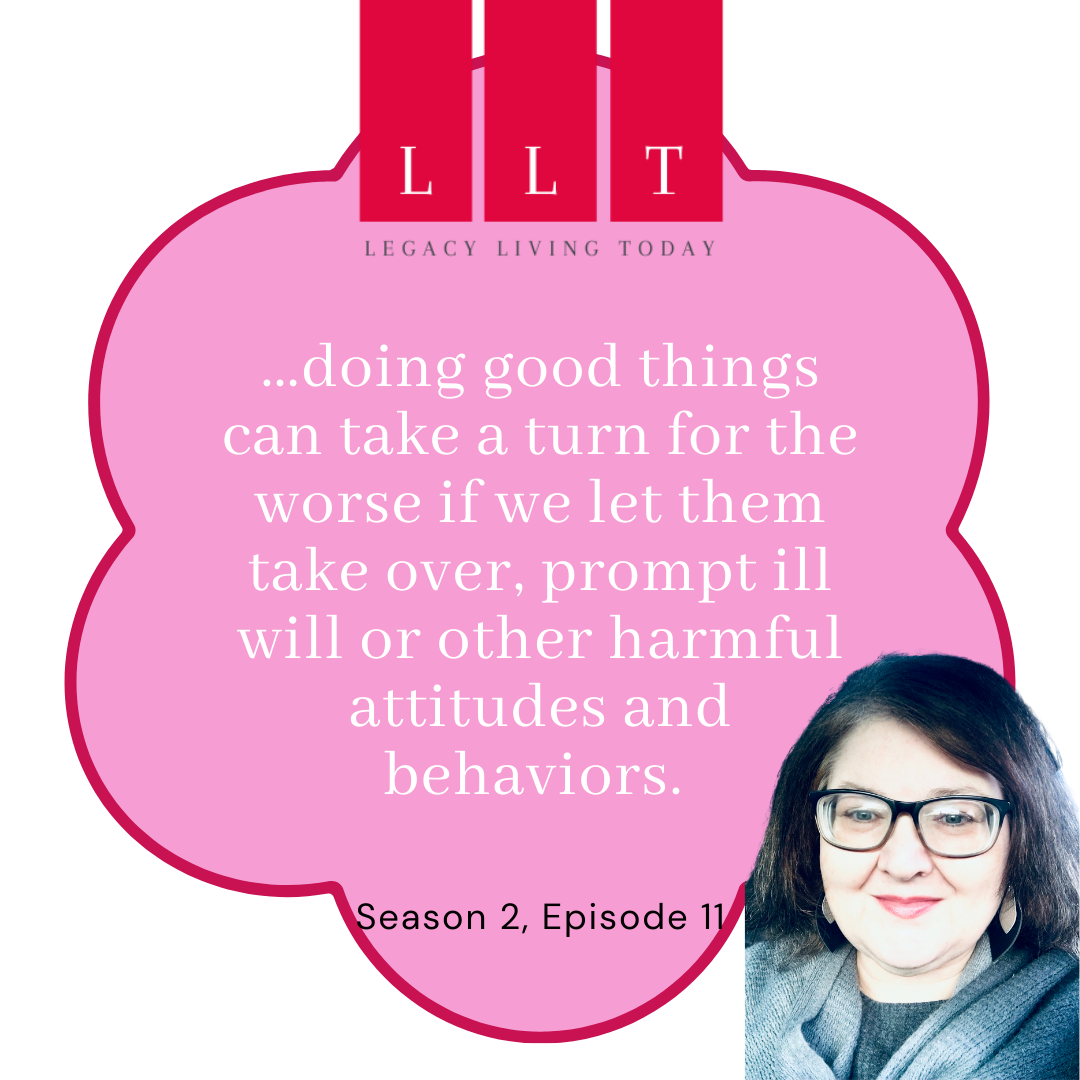 Has this been helpful? What would you add? Let me know, I'd be delighted to hear from
Like this episode? Share it with a friend & rate the podcast on Apple Podcasts or Spotify so more people will see it. And be sure to subscribe so you don't miss the next episode of Legacy Living TODAY.
Keep Learning - Keep Growing - Keep Loving!