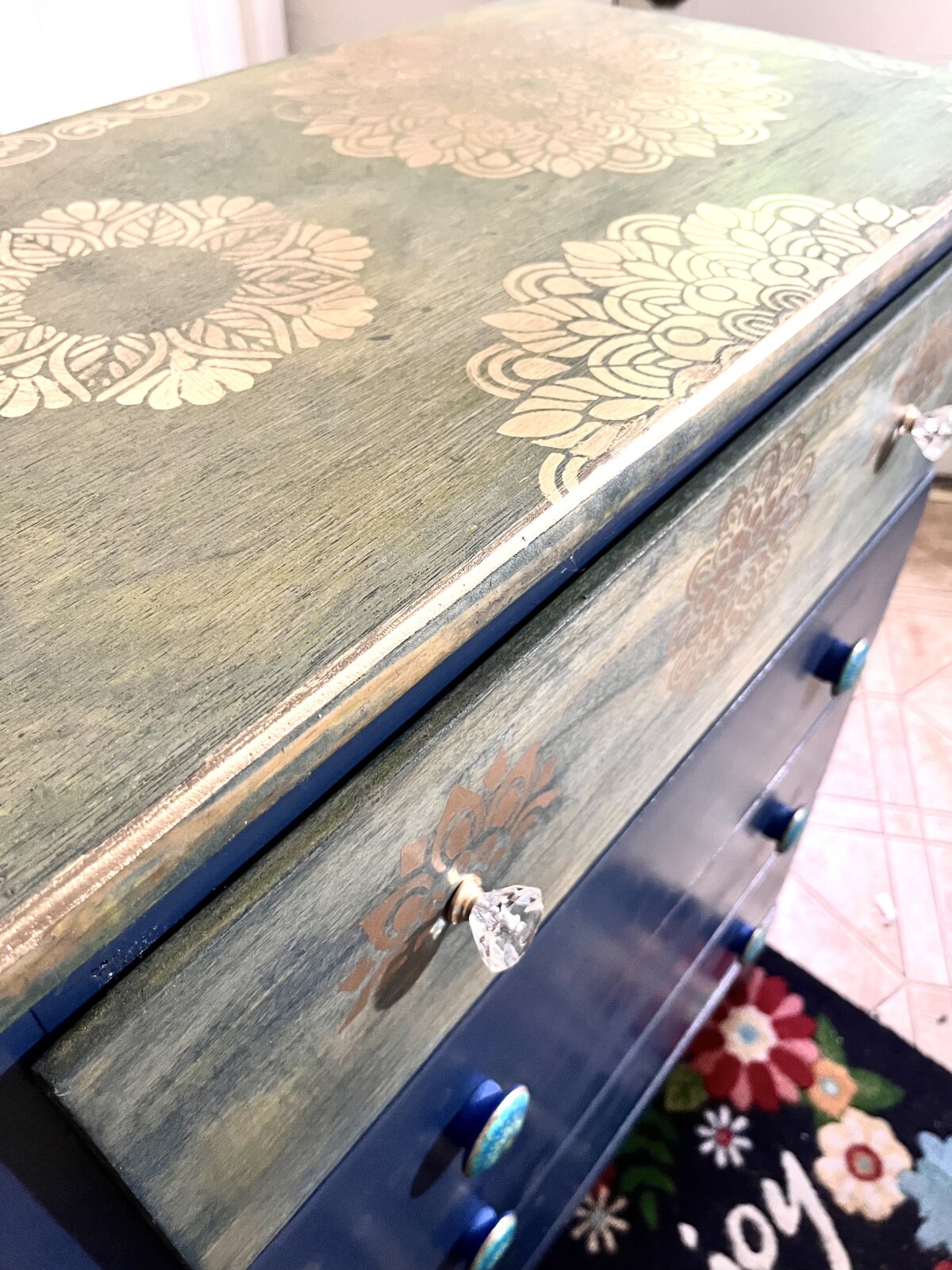 Hot & humid July in the middle of a heat advisory is probably not the best choice to tackle an outdoor project like this. But I survived. And the little project grew a bit (don't they all?!) as I progressed.
In my opinion, I like the idea of repurposing older furniture as an alternative to buying new "pre-fab" types that will be off-gassing in my home whenever it's feasible.
First Impression & Under-Estimating the Work
To start with I thought this little dresser I found free and rescued from the trash would be a simple little fix-up for my son's room.
I'd simply lightly sand down the areas of peeling paint to smooth it all out, Then repaint it all in a fresh new color. No biggie. I was delighted with my find and excited to start my new little project.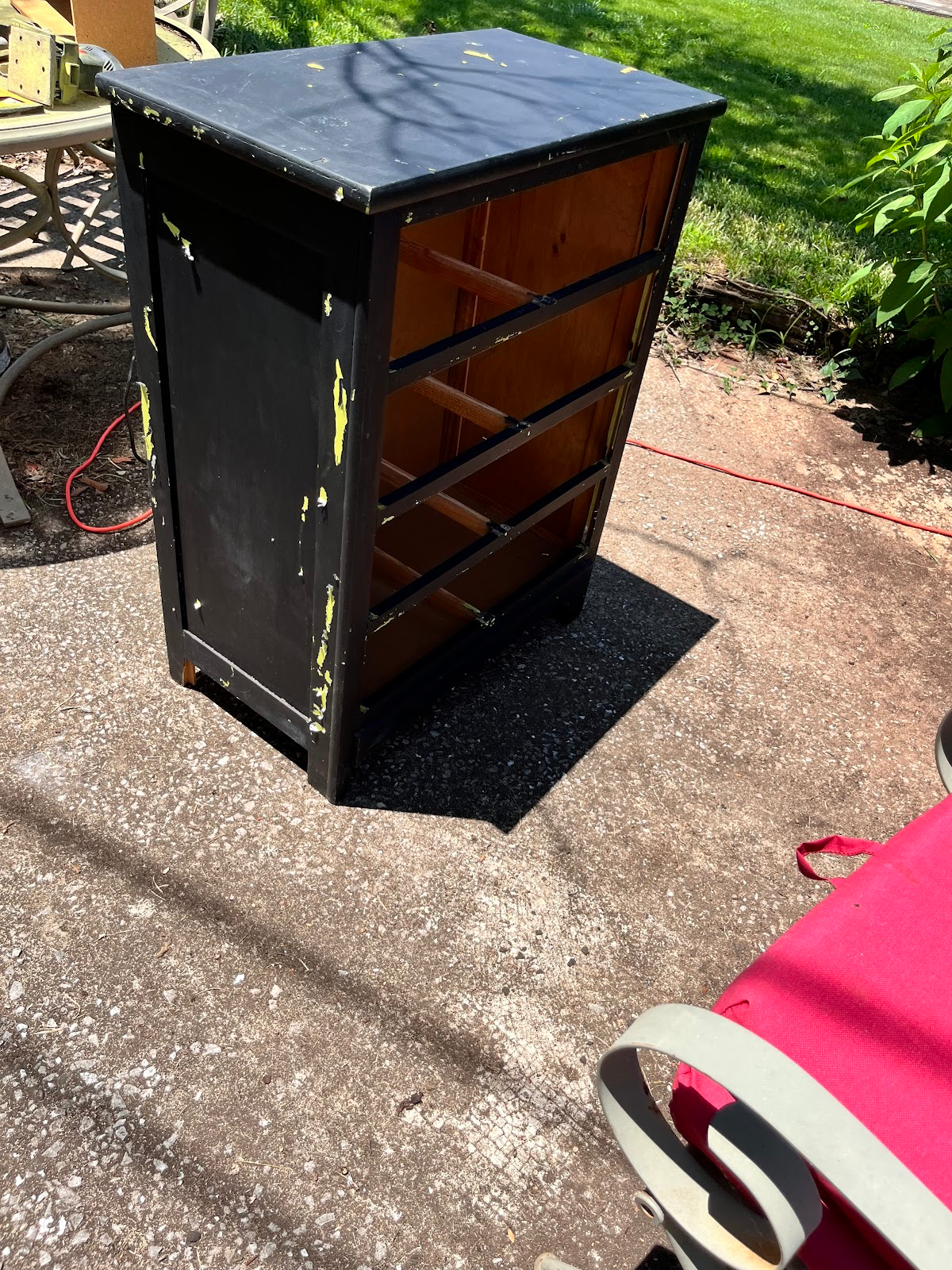 I didn't get a photo of the chest with the drawers but they were all painted matte black, even the simple wooden knobs. It would've been fine cleaned up a bit except for the peeling paint.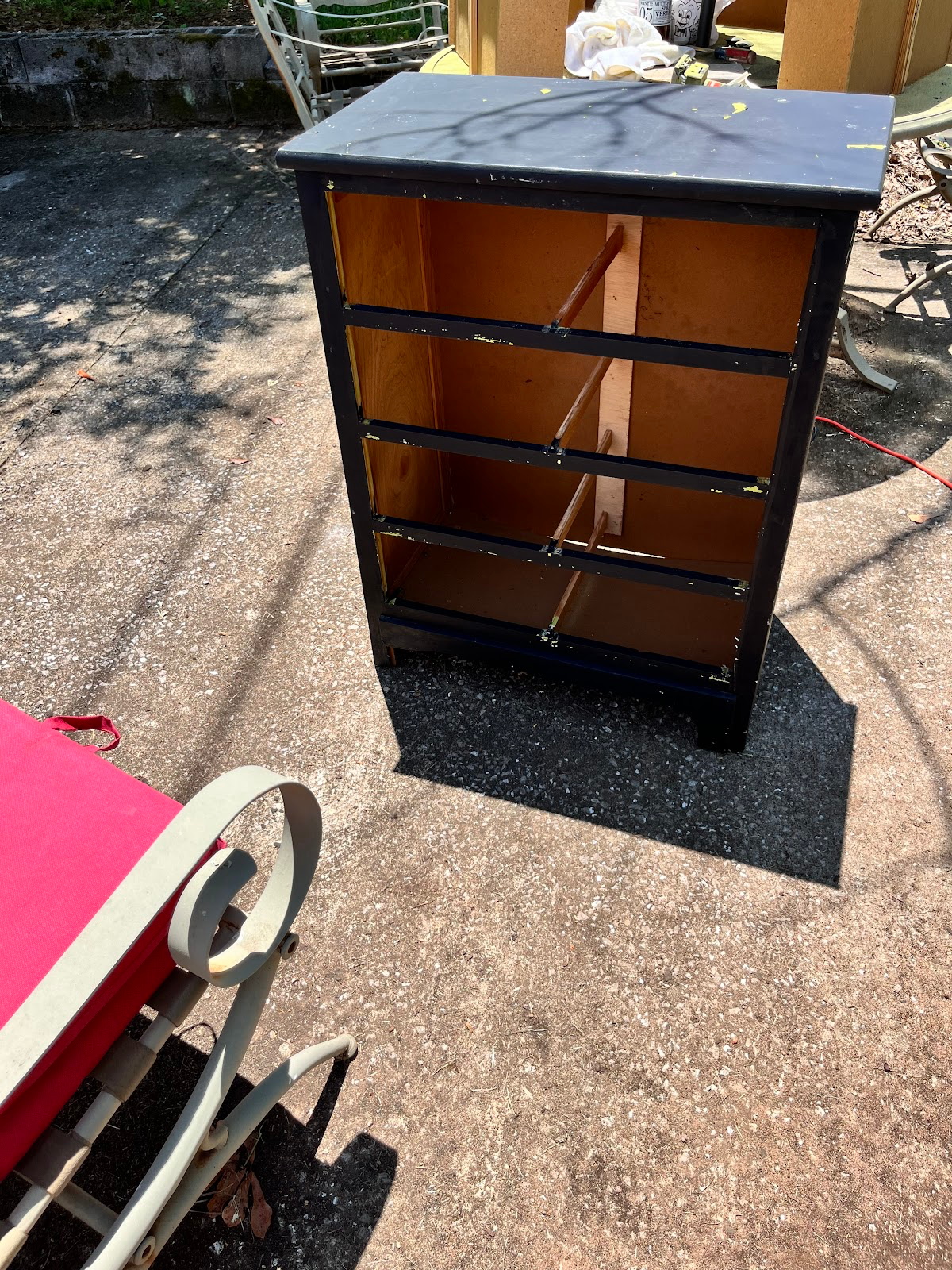 Below is a picture of one of the black drawers after I'd removed the knobs, and another one after I'd sanded off most of the black, the white under that, and some of the "Shrek green" under those.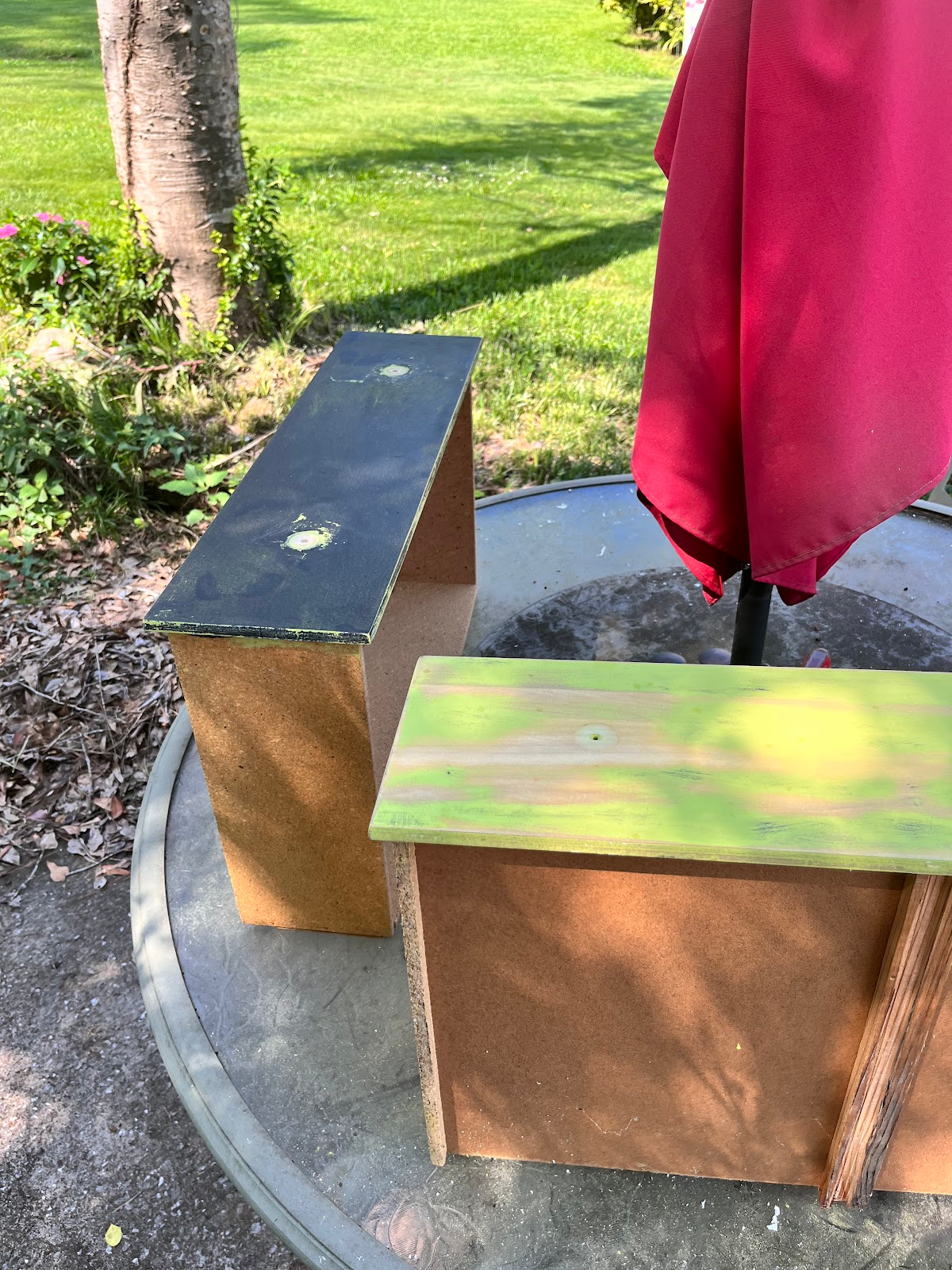 I could've stopped there, painted over the green in one solid color, knobs and all, and been happy with my finished little project. But something happened when I started seeing that bare wood and I became an obsessed woman with a power sander! (Sad, I know.)
I envisioned getting the drawers and top sanded down to bare wood and having the clean looking wood juxtaposed with the new crisp color of the newly painted cabinet. And then of course I'd splurge on new drawer pulls. Bye-bye old wooden knobs. (Hmmm, I kind of liked the simplicity of those wooden knobs when I rescued this thing.)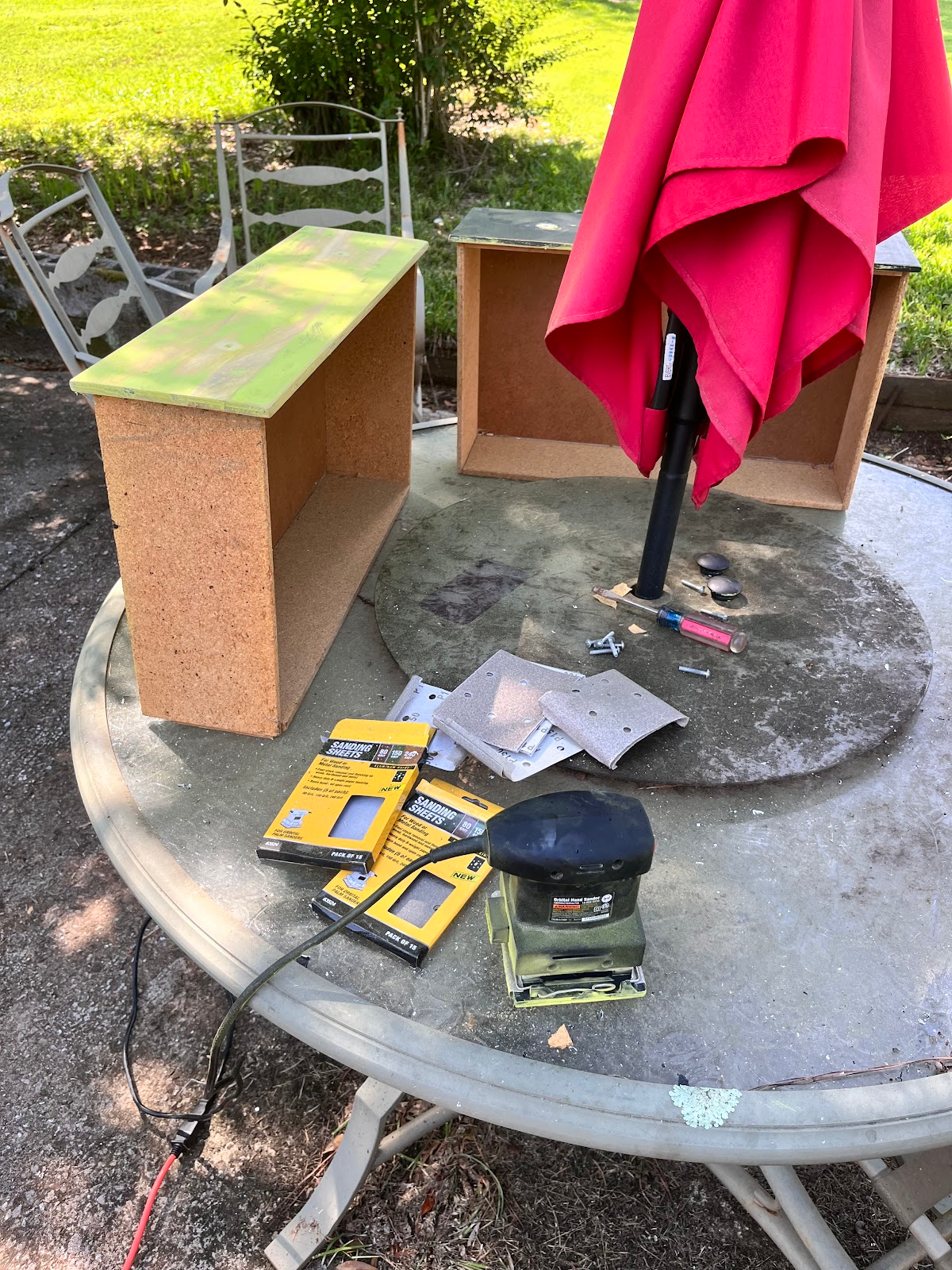 The sanding was not that simple.
I was disappointed in the outcome from the stain so I only stained one of the drawers along with the top and painted the rest the same color as the cabinet.
And the lovely silver drawer pulls I'd splurged on (which would have required newly drilled holes plus filling & sanding the old ones) weren't going to work either. I even tried papering over the stain but didn't like how that looked and so I removed it. I did use the paper to line the drawers with though.
The top had some imperfections (aside from the stain) that I decided would just have to be chalked up to character.
And I still needed knobs. But not silver. And not the old wooden ones. (Remember the warning: Never say never…?)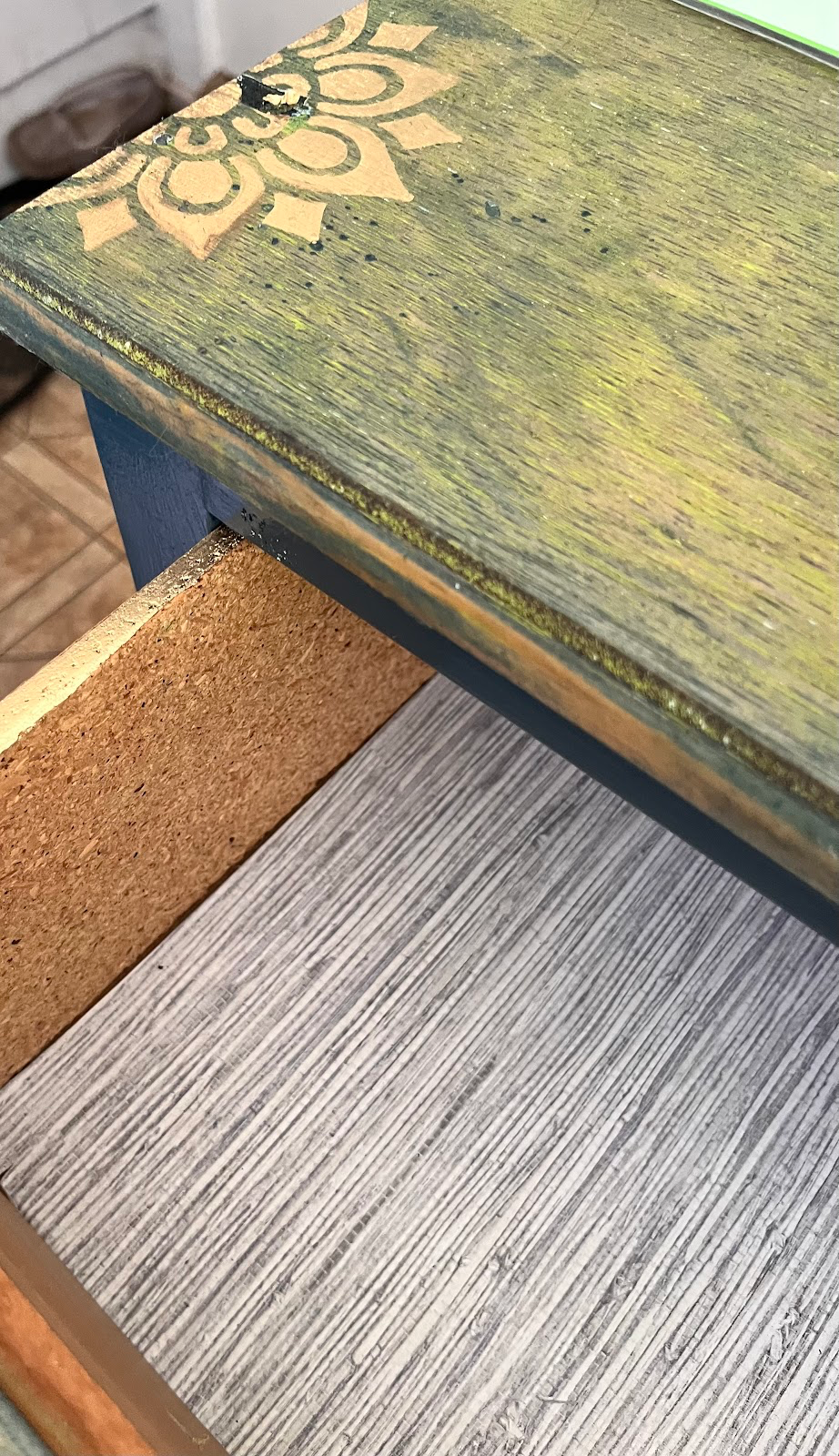 So I searched for affordable knobs or pulls that would blend with the colors of the paint and the stained wood, and not have to have new holes drilled. I found some on Etsy that were a bit pricey for my "little" project, but served as inspiration to re-use the old wooden knobs that came on the chest of drawers. I know, right!
I also found a set of stencils I liked as well as a gold paint pen at Wal-Mart. (These we're cheaper than buying all new knobs from Etsy at $15 per pair.)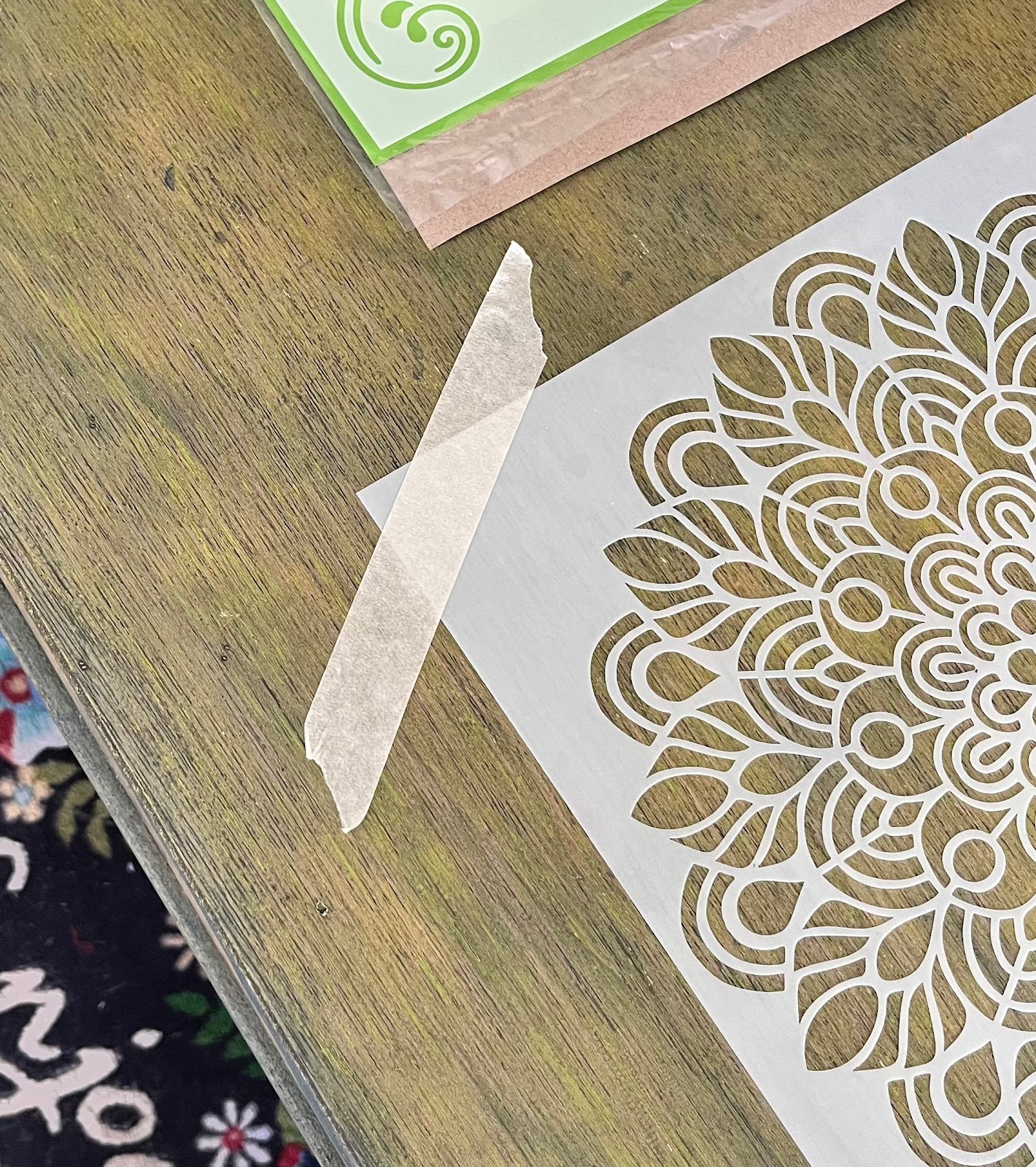 So I used the gold paint pen to add some stenciling to the top and the one stained drawer and really like how it turned out.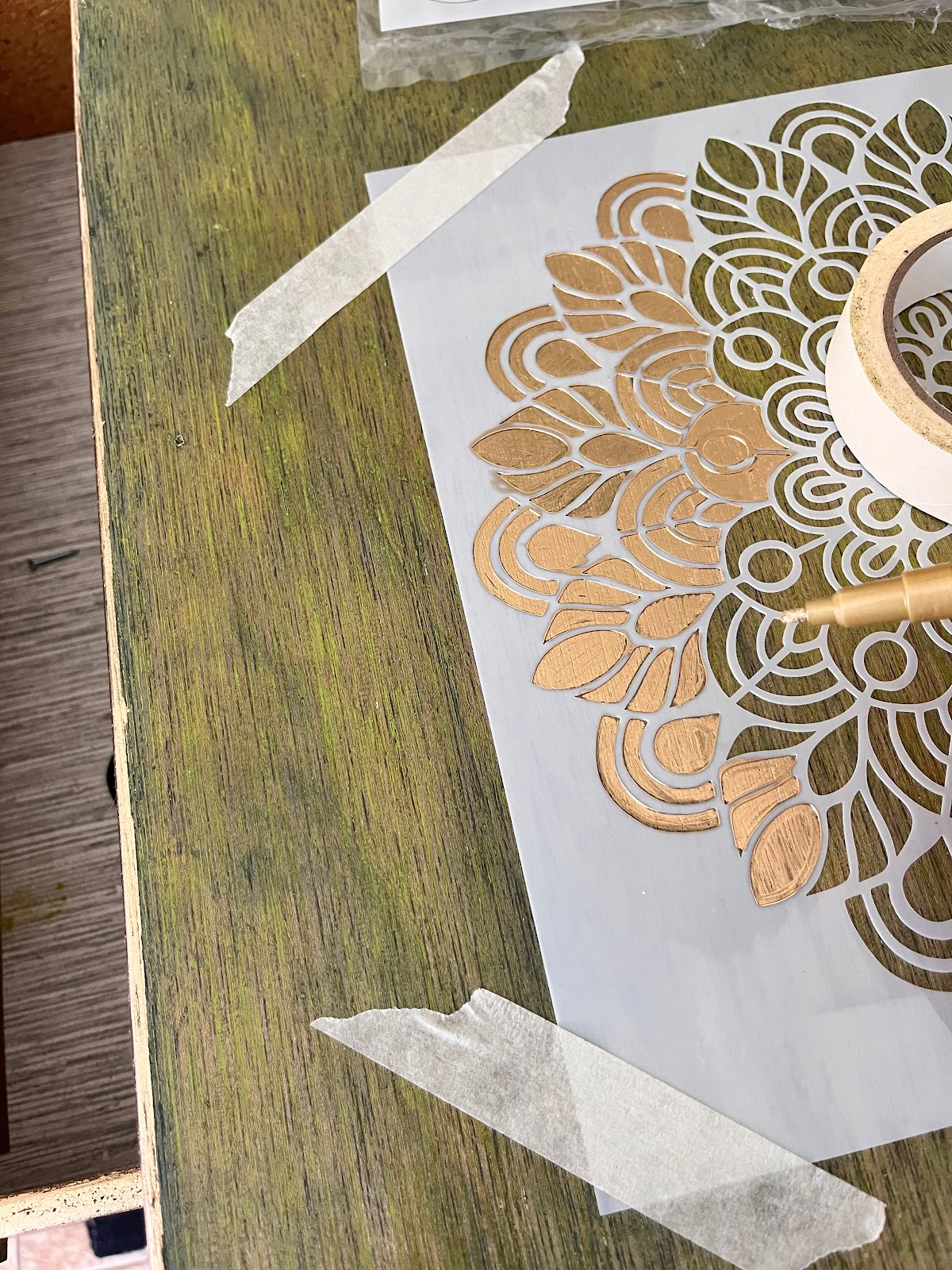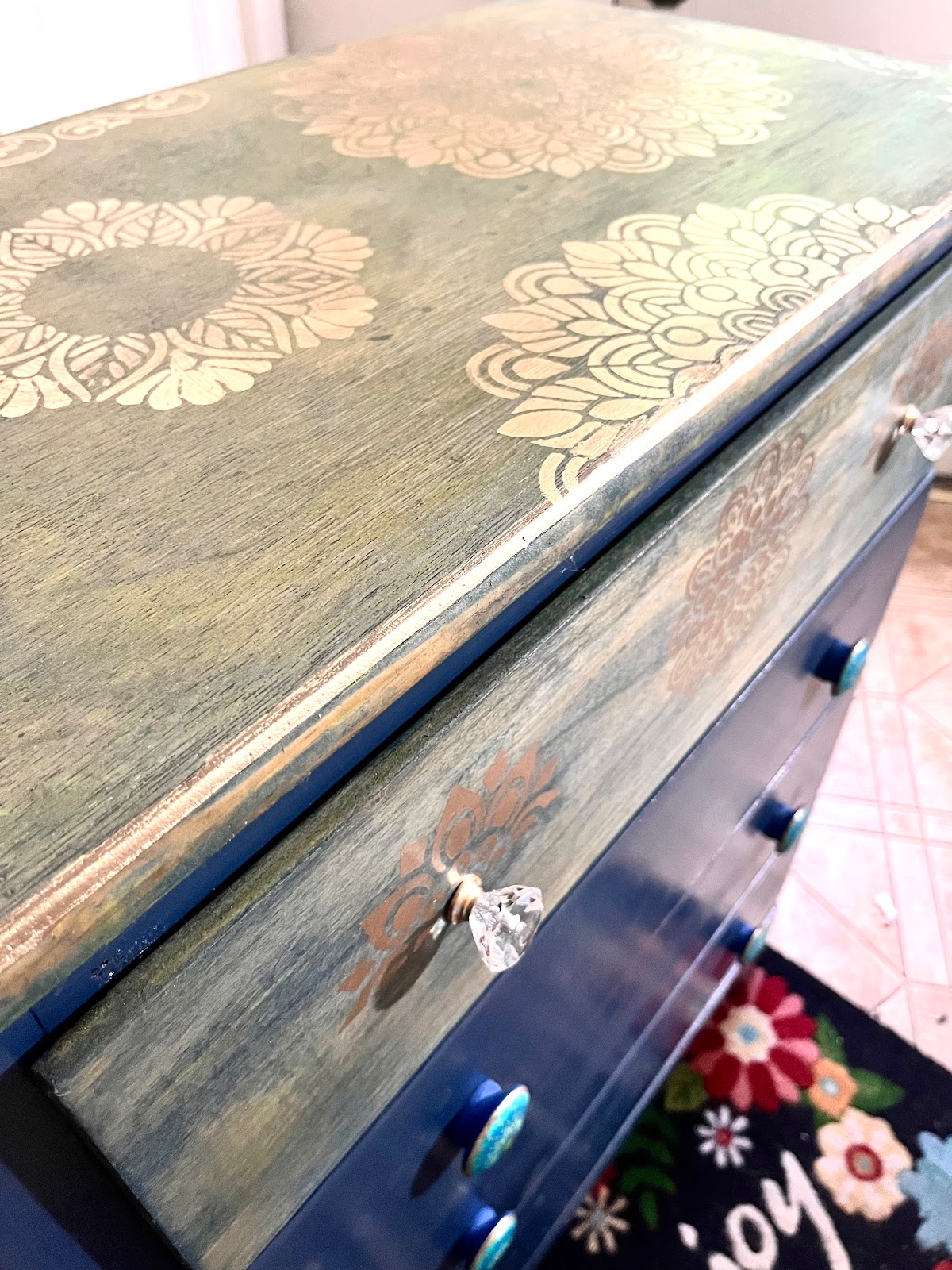 I had some old "crystal" style knobs that I used the pen on to quickly change the bases from silver to gold for that top drawer. And I designed, printed out and decoupaged my Etsy-inspired design onto the newly painted wooden knobs for the remaining drawers.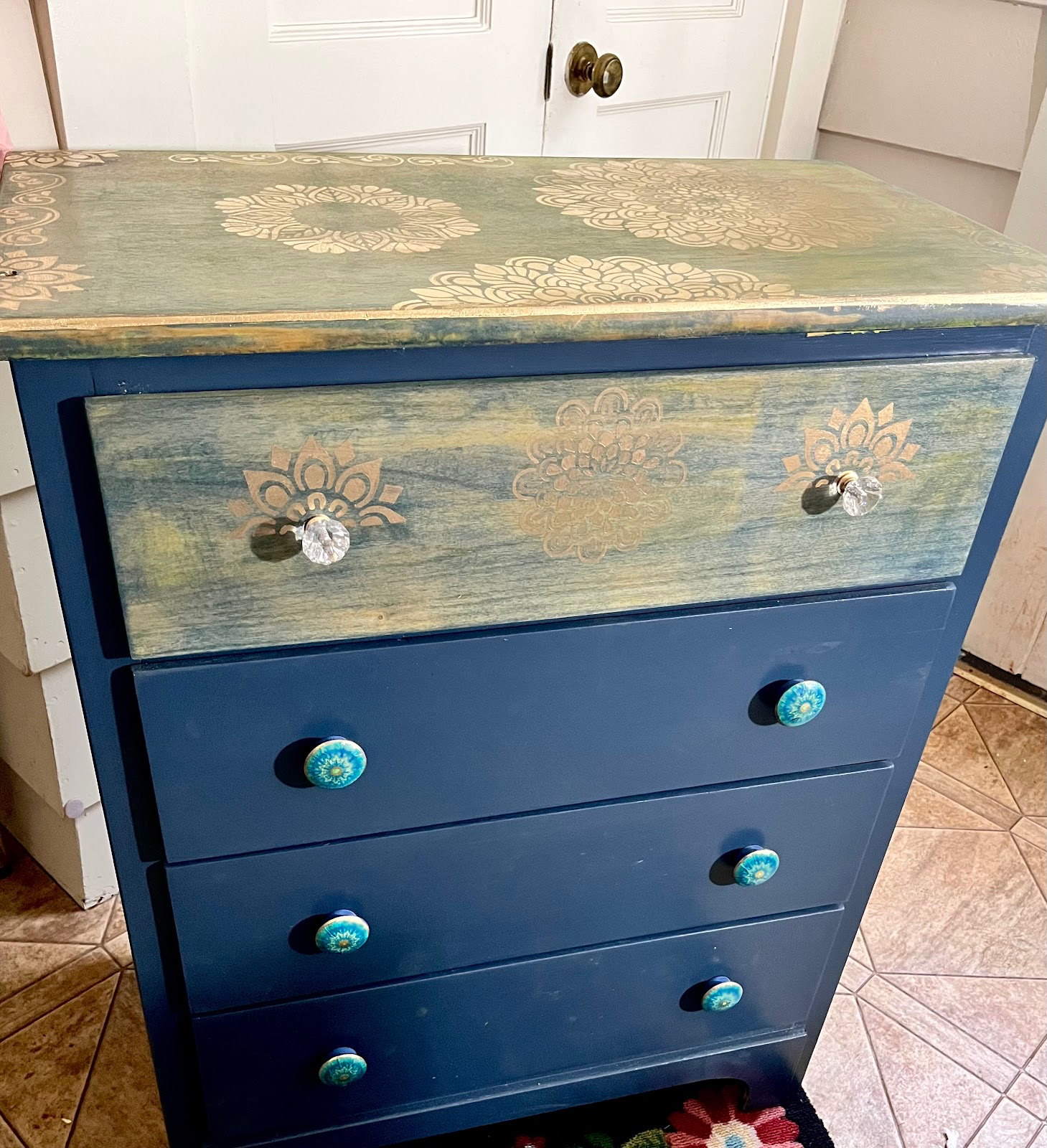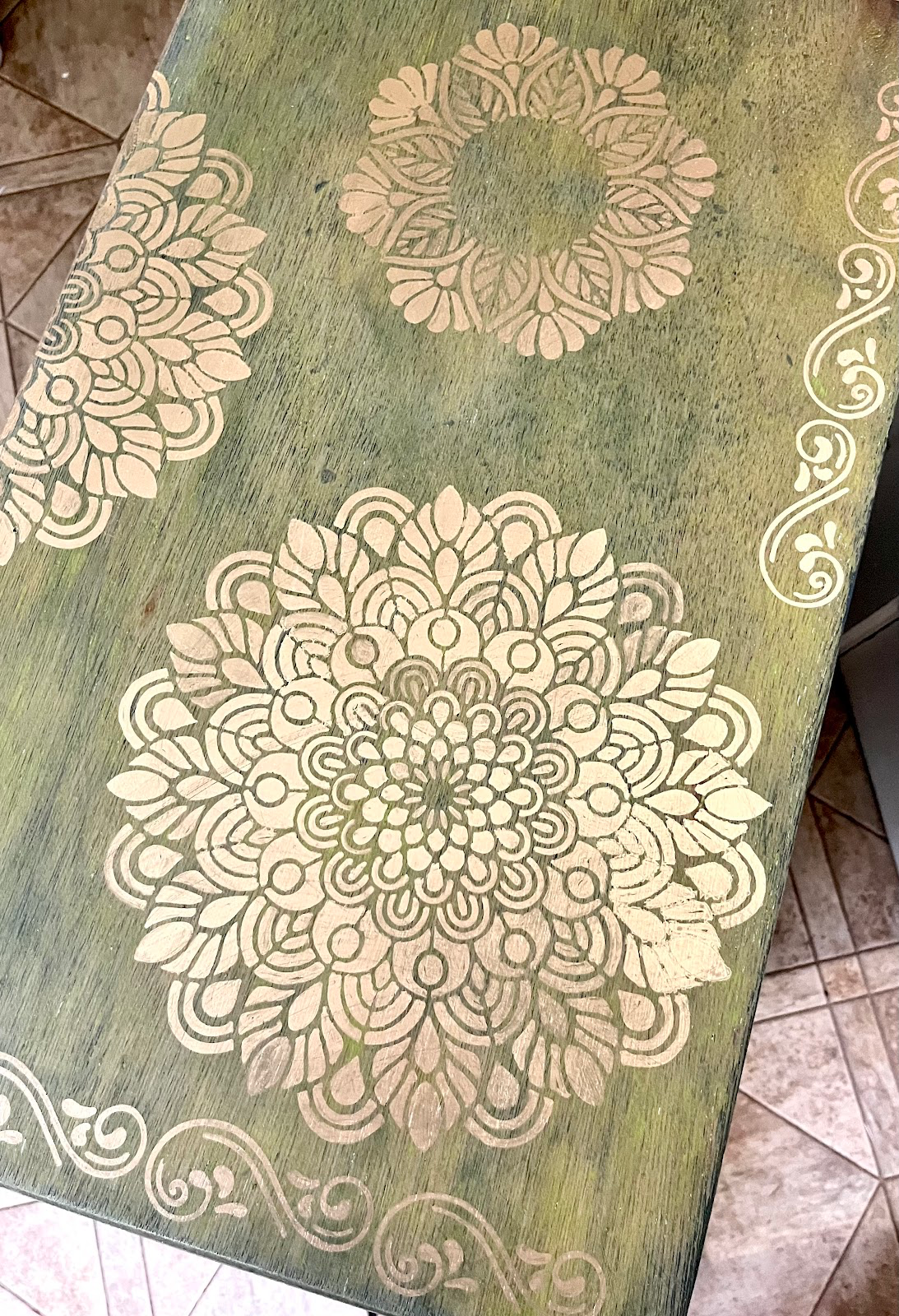 I ended up with a kind of shabby chic boho combo — but hey, it was fun!!
And somewhere along the way my son declared he didn't want it in his room so I was designing for myself at that point anyway. Right now it's found a home in my laundry room which is also our back entrance. I think this little dresser will work well for storing extra linens and small outdoor items like knit hats & gloves.
I may wait until the weather cools off to begin my next "little" project. At least if it's one I will be doing outdoors. What do you suggest I tackle next?
I'm finding it's important for me to have a creative hobby. How about you? Do you feel the neeed to have a creative hobby & what kind?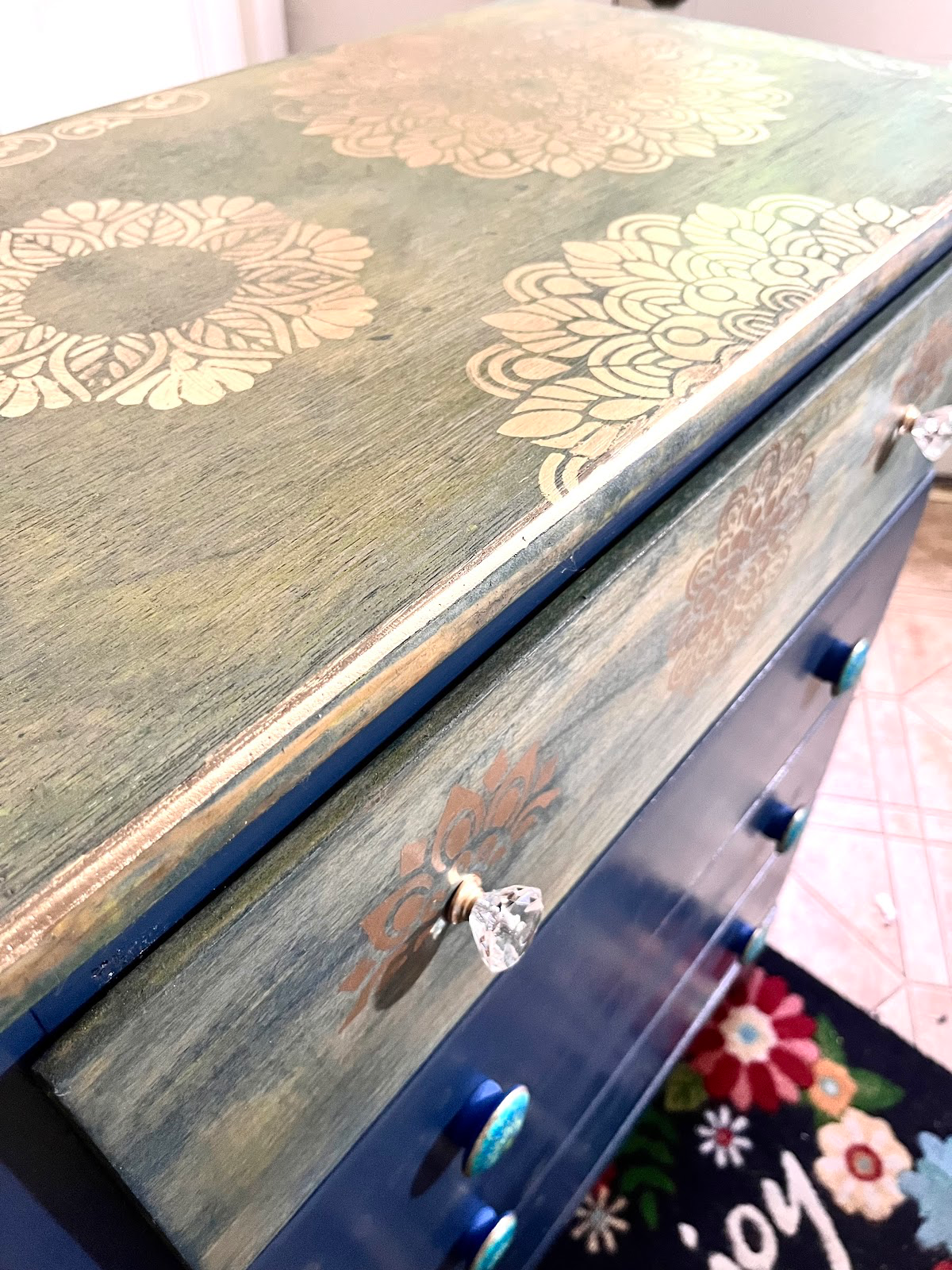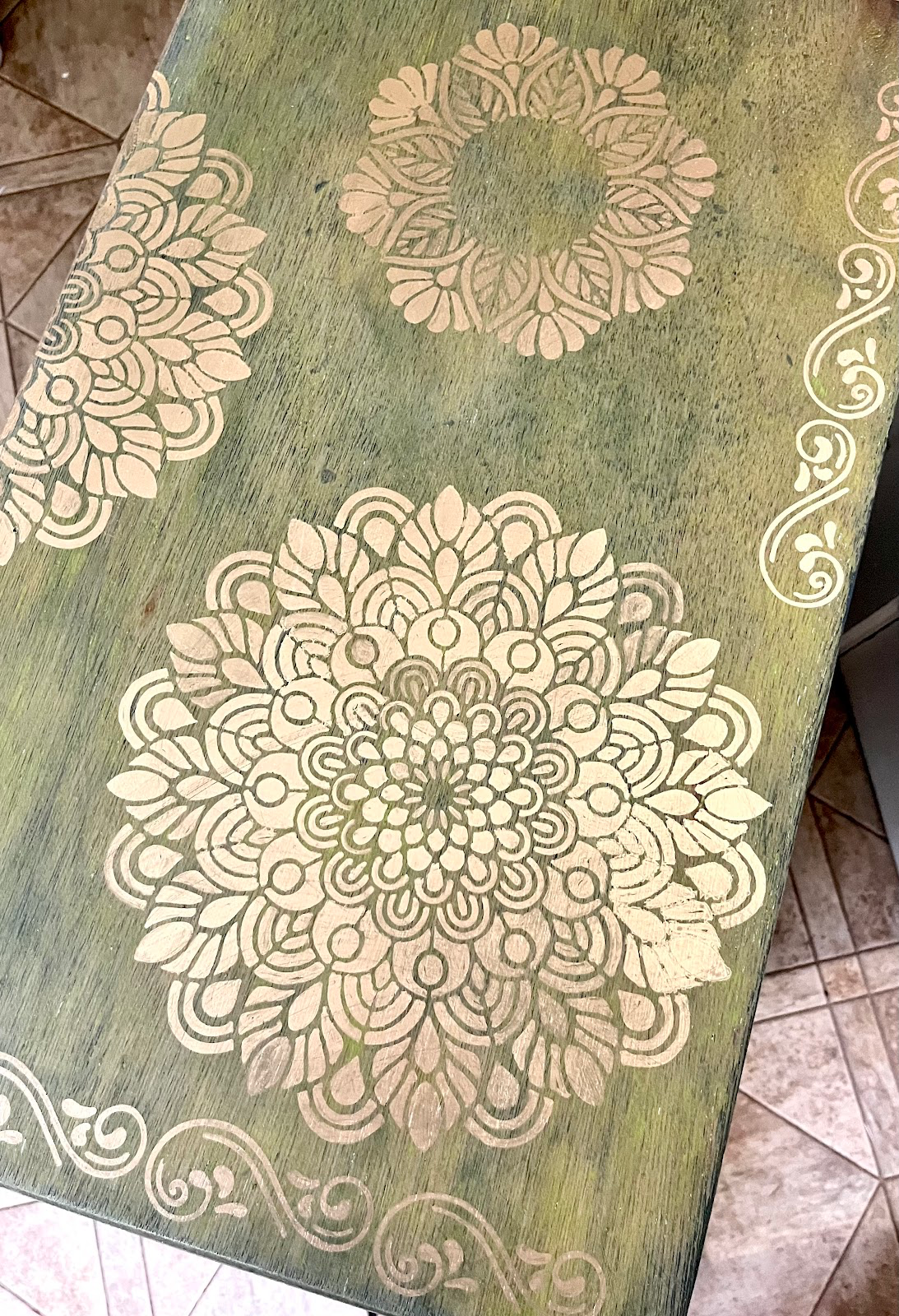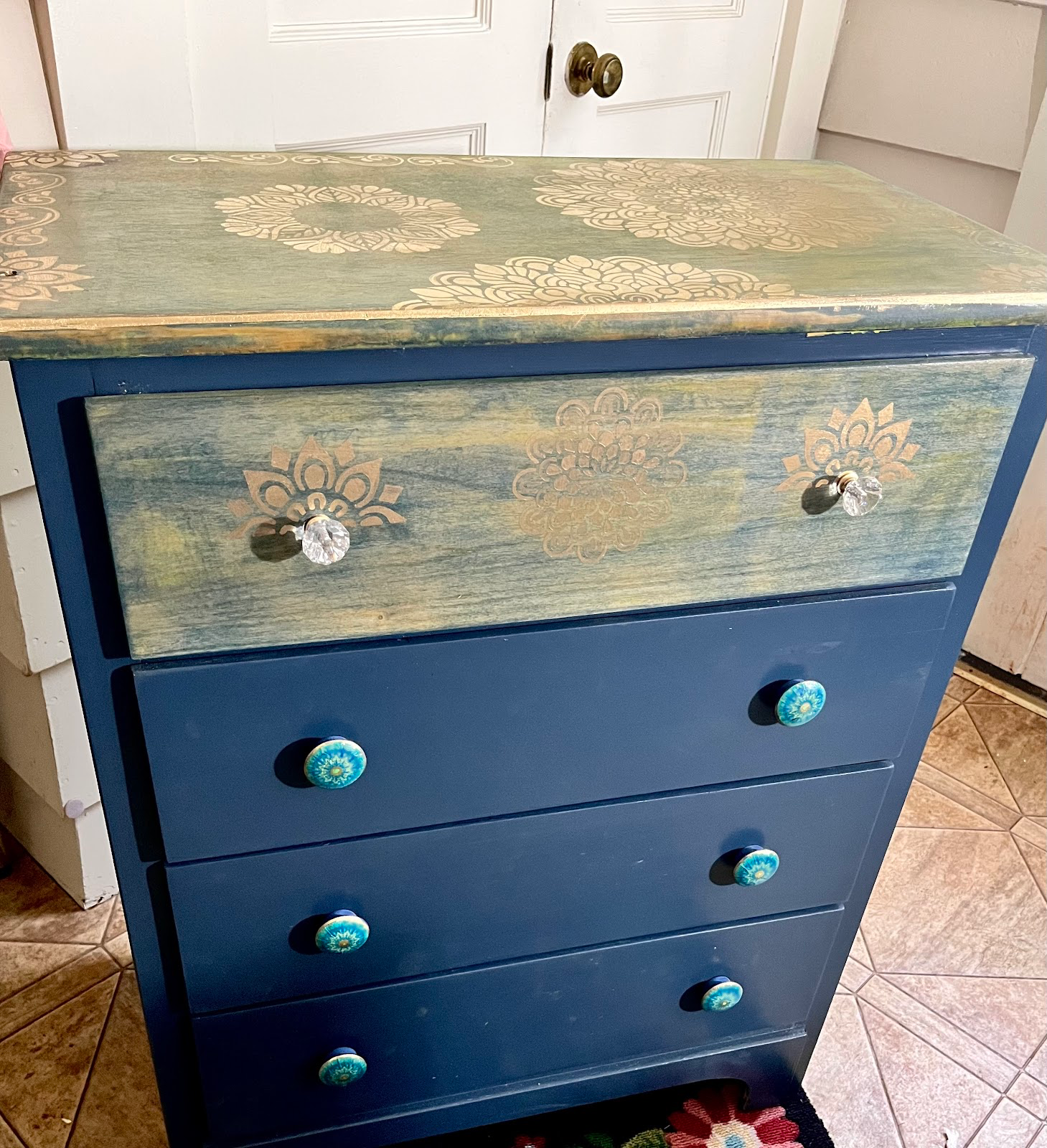 Keep Learning - Keep Growing - Keep Loving!